This extremely armed tea warrior is from a print series of various tea warriors around the world that I created. Tea warriors are a type of warrior I invented that battle and settle disputes by hosting elaborate teas. The issues are settled by discussion passionately but peacably with the parties sipping deliciously prepared teas until the matters are resolved.
This is a series of 22 etchings I started a few years ago and am slowly completing. The image is an etching with dryopint and is hand-coloured. It`s a variable edition meaning that every single print is unique!!
The prints are printed with archival quality materials on cotton rag paper. The image is 6 x 9 inches and the paper size is 11 x 15 inches.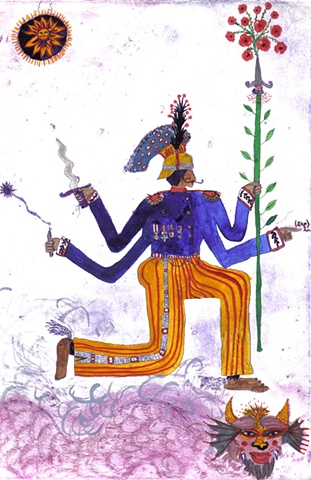 The Extremely Armed Tea Warrior No. 5 of 22
etching, drypoint, handcoloureddcolouring
6 x 9 inches
2012