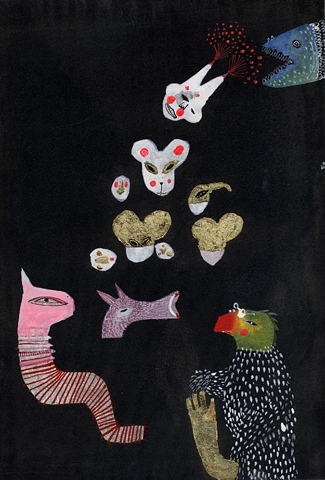 I am a multidisciplinary artist with a practice combining sculpture, performance, micro-activism and relationalism. I work with multiple narratives simultaneously, investigating how people perceive, create and maintain their notions of self through behaviour and visual cues. I am very interested in the idea of adult play. Prior to my graduate studies I concentrated on storytelling through print media, text and installation. At Concordia I started incorporating live performance, kinetic sculpture, touch, light, sound and smell as I explored the ways in which people decipher experience. My work began to divide into 3 separate outputs: print, sculpture, visual acting. Also at Concordia, I began to research the circus in depth, viewing it as a metaphor for life as well as a fascinating, nomadic culture. I examined concepts of illusion and spectacle, the roles of the performer and observer, light and shadow, indications of power, the politics of silence, and how to make something from nothing as ways of understanding how society defines normality.
The efforts of my research culminated in my exhibition, The Circus & the Pimp's Jalopy: Part II, a circus set within a shadowy scrim forest within a dilapidated warehouse space. The two hour spectacle consisted of 7 female performers, a robot and performing objects. The room smelt of popcorn and sweet pastries. A live master accordionist played Edith Piaf. The performers did not speak, instead they communicated through movement and costume, augmenting their personal soundscapes with noise-making accessories. They flitted in and out of character whilst remaining in costume to create tensions around where the performance began or ended. When in character, the performers acted out loops of behaviour accentuated with familiar props in novel usages. The entire installation was both stage and view point. Audience members wandered through the space forced to make themselves comfortable on their own terms in an event with uncertain rules. The event oscillated between being both boring and mesmerizing and sought to intrigue viewers into a heightened sense of the present as they became conscious discerners of their immediate surroundings.
I consider my work along similar lines of inquiry as that of Sophie Calle, Catherine Sullivan, Cindy Sherman, Alexander Calder and his experimental circus performance, Oskar Schlemmer and Papo Colo's Trickster Theatre.